We are the Union of Adjunct Faculty at Pace University. We represent a Collective Bargaining Unit (CBU) comprising approximately 900 adjuncts at Pace University campuses. As defined by our first contract, the CBU includes:
All adjunct faculty members who have received appointments and teach at least three credit hours and/or forty-five hours in the semester including part-time instructors who work in a non-supervisory dual capacity for the University. Excluded are adjunct faculty and part-time instructors employed in the School of Law.
If you meet the above criteria, you are automatically a member of the CBU – which means the UAFP is working for you! However, this does not mean that you are automatically a UAFP member, as well. You must choose to join the union.
WHY should you join? And HOW? Click here to find out. Answers to other work- and union-related questions can be found by scrolling through the FAQ's, menus and documents on this site. You should also check our home page News, Important Reminders and Labor Press Briefs for events and timely information. And read the remarkable story of our first contract below.
We have worked extremely hard to improve the pay, work conditions and expectations placed on adjunct faculty at Pace but we have a long way to go. It's only with your support and involvement that we can become a strong union with lasting impact. So, don't be a "free-rider"! Become a UAFP member today!
As stated in our constitution, the purpose and objectives of the Union of Adjunct Faculty at Pace are as follows:
to advance the professional and economic interests of adjunct faculty at Pace University
to improve the terms and conditions of member employment and to provide members a voice in determining those terms and conditions
to defend members' professional and civil rights
to improve the quality of education, research and scholarship at Pace in cooperation with other members of our academic community
to promote the academic freedom of our members
The Cradle Rocked, A Union Was Born
The first Union of Adjunct Faculty at Pace (UAFP) collective bargaining agreement took effect on March 5, 2009, its timing a remarkable confluence of art and life.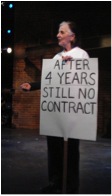 The nascent organization had been locked in a four-year struggle with the university over its formation. The contract had been painstakingly negotiated but the school had not yet agreed to accept it. Meanwhile, the Spring production of the Performing Arts Department was opening – The Cradle Will Rock, a 1937 musical focusing on unionism, politics and industrialism.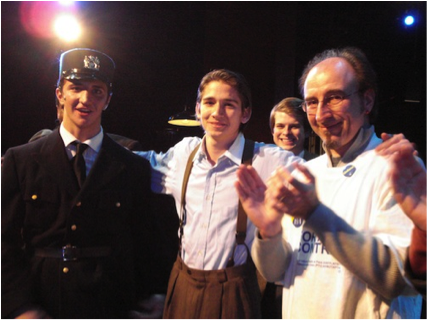 Still uncertain of the union's future, members joined the student cast onstage for the show's finale, bringing the Depression-era allegory straight into the present. As theatrical magic would have it, the administration accepted the union's contract during the run of the show and Barbara Lerner, now UAFP President, was able to make the historic announcement from the stage. Theater lore doesn't get any better than that.
We invite all Pace adjuncts to join us as we continue to rock the cradle, working toward more equitable pay and promotions, improved working conditions, and a better educational experience for our students and ourselves.